Blended Hairstyling, Makeup and Aesthetics
Diploma Program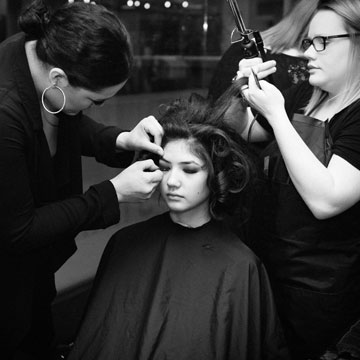 START DATES
March, June, September, December
CAMPUS
Calgary, Edmonton, Lethbridge, Medicine Hat, Grande Prairie
COURSE LENGTH
Blended Hair and Makeup or Aesthetics Program – 51 Weeks, Includes Kit, Uniform, Textbook.
Ever envisioned yourself running your trendy salon, lending your skills on a luxurious cruise ship, or being the go-to professional for manicures, pedicures, hair, and makeup for a blissful wedding party? Whether these ambitions align with your vision in the beauty industry, our comprehensive Blended Diploma is your stepping stone toward realizing these dreams. Equipping you with a competitive edge and the required skill set, our program ignites your passion and paves your path to success! Achieve your career aspirations with us – your success story starts here!
The Blended Hairstyling Makeup Esthetics Diploma allows the Students to learn everything they would learn in the 9-month Hairstyling Diploma Program, along with various Esthetics Skills. You will be trained with the following skills; Eyelash Extensions, Pedicures, Manicures, Waxing, Makeup, and Artificial Nails.
This Program offers 1800 hours (11 months) of Educational Training necessary to your Apprenticeship as a Hair Technician and enables you to become certified in the Esthetics mentioned above. We feel it is required to give you a broad base of training and experiences to learn from. If you are interested in high-end fashion and top-name salons, now's the chance to elevate your job into an exciting career. That is why you will enjoy the following opportunities.
In-depth training for advanced colouring techniques, the art of consultation, extensions, advanced colouring, beginner session work, business basics, and advanced long hair styling.
The details of competitions and how to place them.
Internal class competitions for various accolades.
Resume and portfolio development for career advancement.
Professional photo shoot preparations and competition work.
In-depth training with Pedicures, Manicures, Waxing, Makeup Artistry, and Artificial Nails.
Competitive Advantage in the Industry to excel and display your skills in the 'real world.'
Expect exceptional personalized services so students graduating are professional, educated and on the current edge of trends and techniques.
Math 14
English 10-2 or 13
33 High School Credits
Personal Interview
250 word essay as to why you've chosen this career
16 years of age or older
Students under the age of 18 require parental or legal guardian signatures.
Mature Student Status – required to write an Aptitude Exam
$150 administration fee